Disclosure: This blog post contains affiliate links from my participation in the Amazon Services LLC Associates Program. . I receive a small commission at no cost to you when you make a purchase using my link.
The movie ended happily and we were all smiling. Except Rose. She was sobbing. 

"What happened?" my husband asked gently. 

"The horse died," she sobbed. 

After much investigation we realized a horse had been shot and gone down in battle. Not a character in the story, mind you. Just one horse on a battlefield. At the moment, I realized the depth of my daughter's love for animals. 
Do you have an animal lover in your home?

Provide some reading material he/she will love. Your animal lover will love to read these engaging classic stories! Here are some books and series have delighted my own children and I know your kids will love them too!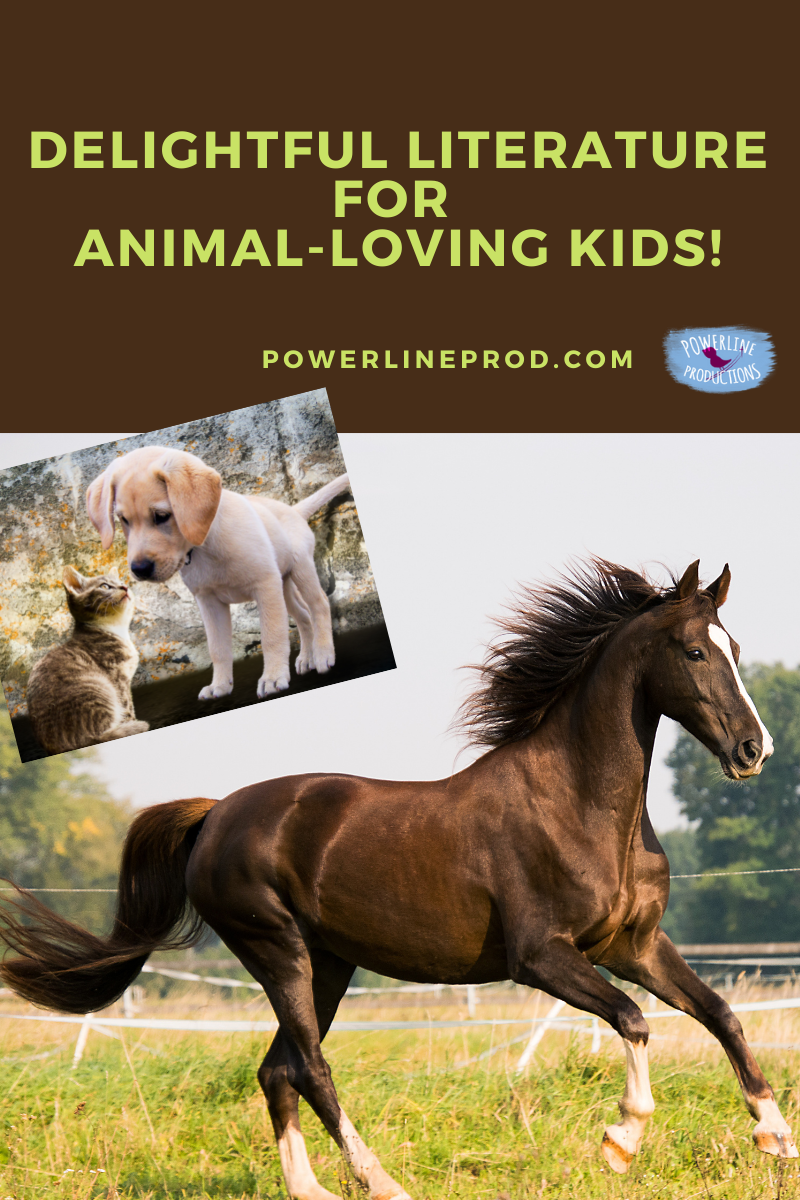 Thornton Burgess Animal Books
Thornton Burgess's vintage animal stories introduce us to different animals with charm and quirks. Hidden underneath these delightful story lines is a wealth of information about animals. They are wonderful books for young readers and great read alouds for science unit studies.
Purchase Thorton Burgess Animals Stories Boxed Set at Amazon.
There are over 100 stories, but here are just a few!
The Adventures of Paddy the Beaver
Baby Possum has a Scare
Little Joe Otter
Buster Bear Invites Old Mister Toad to DIne
Everybody Lends Jerry Muskrat a Hand
Old Granny Fox
Johnny Chuck Loses His Temper 
Striped Chipmunk has a Secret
Grandfather Frog Gets a Ride
Peter Rabbit & Reddy Fox 
Beatrix Potter Books
Beatrix Potter was an artist who grew up loving animals and watching them intently. Her stories are so sweet and infused with her love of animals. I can never decide which I like better–the stories or her lovely illustrations. 
The Tale of Benjamin Bunny
The Tale of Jeremy Fisher
The Tale so Squirrel Nutkin
The Tale of Tom Kitten
Jemima Puddleduck
The Tailor o Gloucester
The Tale of Mrs. Tiggy-Winkle
Purchase The Complete Peter Rabbit Library Boxed Set at Amazon.
Purchase The Peter Rabbit Collection Audio Book at Amazon.
Dr. Doolittle and his Funny Animals
Hugh Lofting wrote a set of books about a vet who talks to his animals. And they talk back! You will love these zany stories! 
The Story of Dr. Doolittle
Dr. Doolittle's Post Office
The Voyages of Dr. Doolittle 
Dr. Doolittle's Circus
Dr. Doolittle's Zoo
Dr. Doolittle's Caravan
Purchase Dr. Doolittle: Complete Collection by Hugh Lofting at Amazon.
Charlotte's Web
Enter into the world of Charlotte the Spider's farm where the race is on to save the life of Wilbur the Pig! This classic was the first chapter book my oldest daughter Katie Beth read! She cried at the end and your kids will, too. 
Purchase Charlotte's Web by E.B. White at Amazon.
Marguerite Henry's Horse Books
When Marguerite was a little girl, she got a bad case of scarlet fever that left her bedridden until the age of 12. So, she read and read and read. Soon, she started writing! She published her first story at the age of 11. Marguerite's love of reading and later writing resulted in a wealth of delightful literature all about horses! 
My sister grew up loving horses and I think she owned every single one of Marguerite's books! 
Purchase Justin Morgan Had a Horse by Marguerite Henry at Amazon.
Picture Books
The Auction
The Big Race 
The Capture 
Going Home
The Storm
The Whirlpool
Novels
Misty of Chincoteague
Sea Star
Stormy, Misty's Foal
Misty's Twilight
King of the Wind 
Born to Trot 
Brighty of the Canyon
Justin Morgan had a Horse
Black Gold 
San Domingo
Mustang
…..   and many more!
Purchase Marguerite Henry's Stable of Classics by Marguerite Henry at Amazon.
Dog Books
Children love dogs and there are too many dog books to list, so I will just share my very favorites! 
Picture Books
The Pokey Little Puppy by Jeanette Sebring Lowrey
Harry the Dirty Dog by Gene Zion
Where's Spot? by Eric Hill 
Pretzel by Margaret Rey
Clifford the Big Red Dog by Norman Bridwell
Madeline's Rescus by Ludwig Bemelmans
Good Dog Carl by Alexandra Day
Novels
Lassie Come Home by Eric Knight
Big Red by Jim Kjelgaard
Snow Dog by Jim Kjelgaard 
Irish Red by Jim Kjelgaard
The Bravest Dog Ever: The True Story of Balto by Natalie Standiford
The Original Adventures of Hank the Cowdog by John R. Erikson
The Incredible Journey by Sheila Burnford
Old Yeller by Fred Gipson
Ribsy by Beverly Cleary
Shiloh by Phyllis Reynolds Naylor
Sounder by William H. Armstrong
Where the Red Fern Grows by Wilson Rawls
James Herriot's Books
James Herriot is the pen name for James Alfred Wright, a British veterinary surgeon who compiled his tales of caring for animals in Yorkshire. The stories are warm and inspiring, full of old-time common sense and virtue. These books, written for adults, will be enjoyed by middle and high schoolers, too.
All Things Bright and Beautiful
All Creatures Great and Small
All Things Wise and Wonderful 
If those book titles sound familiar, they are stanzas from an old hymn! 
Let me know if you can add to this list. Leave any classic/wholesome animal stories/book titles in the comments below. (Please include authors).
Until next time, Happy Homeschooling!
Warmly,
Meredith Curtis